Story: https://www.asme.org/topics-resources/content/new-roof-both-cools-and-heats
"Cool-roof" systems that exist today cool homes by reflecting sunlight from their surfaces. Such roofs can reduce energy costs in summer. These systems also radiate heat in the winter through the process of radiative cooling. That helps drive up heating costs.

Now, however, a research team at University of California-Berkeley, led by Junqiao Wu, a professor in the Department of Materials Science and Engineering, has developed a smart-roof coating that keeps homes warm during the winter and cool during the summer, without consuming natural gas or electricity.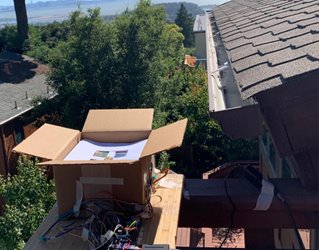 Setup for a rooftop experiment in the East Bay Hills. Data from the experiment was used to simulate how TARC would perform year-round in cities representing 15 different climate zones across the continental U.S. Photo courtesy: Junqiao WuThis new material—called "temperature-adaptive radiative coating" or TARC—can enable energy savings by automatically turning off the radiative cooling in the winter. This groundbreaking technology outperforms commercial cool-roof systems in energy savings by about 10 percent.
Considerable attention has been given to maximizing the radiative cooling power of roof coating in the hot daytime using static, cooling-optimized material properties. However, the resultant overcooling at night or during the winter season increases heating costs.
As a materials physicist, Wu has been interested in phase-change materials and phase transitions throughout his career. He was studying passive radiative cooling technology when he noticed "that the energy saving needs to be considered holistically from the all-season perspective—not only cooling in hot weather but also warming in cold weather," he said.